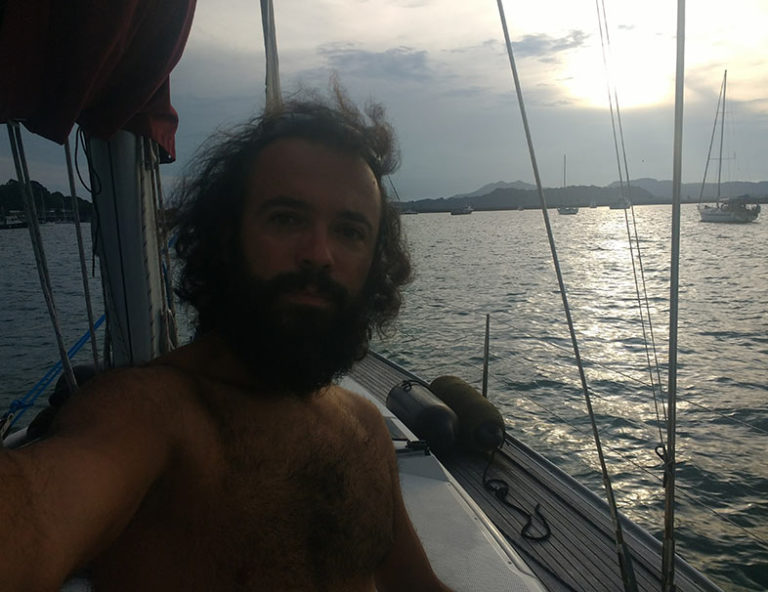 Last Sunset in Panama
Hard to believe it is already mid September, exactly 364 days from the departure from England. When I flew out of NZ this May, I thought arrival back home would be sometime around September. It's been more complicated than I visioned.
The heat this year has been stupendous. The passages from Sint Maarten and from Aruba were by far the most uncomfortable ones to my experience. Makes me even question if it is not the reason for IRMA being such a phenomenally-powerful storm.
Since arrival in the Caribbean, I often felt sick and feverish, and I guess the overindulgence of $1 Presidentes did not help. But what can you do when beer is cheaper than water??? The beer gut that ensued, is something to be contemplated.
Little Minx also had her share of hindrances. Her bottom was completely fouled by the time we crawled into Panama. That held us back nearly 3 weeks at Shelter Bay, throwing a coat of anti-fouling paint.
Panama has hosted me for almost two months this time around. In all honesty, I was never a big a fan of this place, even being able to squeeze some Spanish. The people are in their vast majority incredibly sad and angry with life, the crime is high, humidity is high, heat is high and to add to my own, everyone is always trying to squeeze a buck out of you. Odd exceptions do exist though.
"It is not change that incurs pain, but the resistance to change". Looking around the anchorage at Flamingo Island one last time, I almost feel sad to leave the routine that feels so comfortable. Nahhhh, just to think of NZ, is enough to want to leave as soon as possible.
Early this morning, a quick trip to the Farmer's market was done with Amadio, a retired-Taxi driver that is still driving in his old age. Now, as the evening progresses, the scent of the 40 onions, cozily rocking from side to side in their little hammock on the ceiling, fills my nostrils with joy along with potatoes and oranges, who shall eventually sacrifice their own existence so I can continue on my selfish one.
Diet. Food. It has been plaguing me since Sint Maarten. Just the thought of spending waking life with buying, cooking, eating and then cleaning the ordeal, makes me sea sick. It's hard to imagine that to some people, food is what their lives revolve around in the search for joy.
As an experiment this time around, no snacks were purchased! Beans, rice, couscous, quinoa, lentils and mixed vegetables will be staple, along with the odd porridge and pasta. Little Minx is shipshape, we're ready to go have an early night. The neck is quite stiff as a muscle was pulled while lifting the bag of oranges from the dinghy earlier on. Tomorrow will be a long day but one to be back out to sea, may we all dream of it tonight.